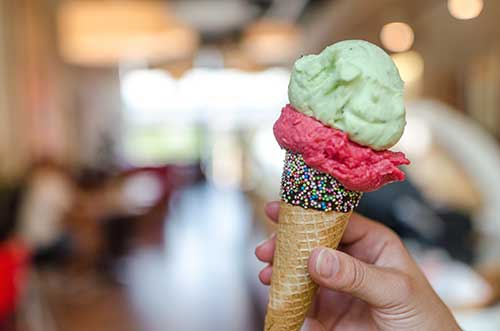 Nothing is better than ice cream on a hot Flagstaff, Arizona day, especially when you make it yourself. Making your own ice cream might sound complicated, but it's easy to whip up. Here are some easy recipes for you to get started!
Easy Homemade Ice Cream Recipes
What you need
All it takes to make ice cream is four ingredients:
2 cups heavy whipping cream.
2 cups half-and-half.
1 cup sugar or a sugar substitute, such as Stevia.
2 teaspoons vanilla extract.
Remember, if you decide to use a sugar substitute, read the directions to find out how much to use. For example, one teaspoon of Stevia, powdered or liquid, equals one cup of sugar.
Start with a little prep
Making ice cream is something anyone living in Flagstaff apartments can handle, but you do have to plan in advance, so you can do some prep work.
Put a freezer-safe bowl or pan into your freezer. Something made from Pyrex or stainless steel is typically a good choice because it won't crack in the cold. There is no set time to leave the pan in the freezer. Overnight is a good idea, though.
Mixing it up
Once the pan is good and frozen, mix all the ingredients in a separate bowl. Make sure the sugar or sugar substitute freezes completely, otherwise the texture will not be smooth.
Pour the ice cream mixture into the frozen pan.
Freeze it up
Put the pan with the ice cream into the freezer for about 30 minutes. When the edges start to thicken, take it out and beat it with the mixer. This is to break up the ice cream to give it a creamy texture.
Repeat this process five or six times until the ice cream is firmly frozen. Add your favorite goodies to it, such as candy or sprinkles, and serve.
It's a real treat when the temperatures start to rise. If you are coming to Flagstaff, Arizona, call our office and find out more about our apartment homes.