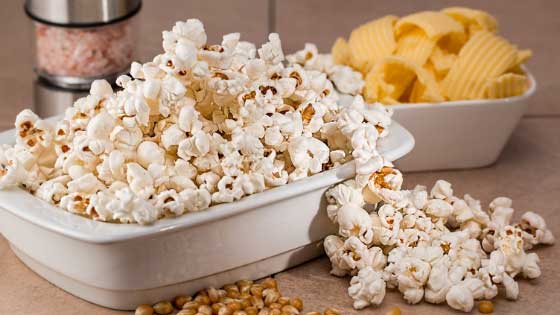 Are you planning a casual get-together, or maybe old friends stopped by unannounced? Show your hospitality without going overboard with these three easy snacks which look great, taste delicious, but are simple to prepare and won't break your budget.
Tuscany-Style Flatbread
Store-bought flatbread gives you the opportunity to be as creative as you want to be. This version evokes the images of sun-soaked Tuscany. Start with grilled or slightly toasted flatbread. Rub a peeled garlic clove gently over the surface. Drizzle extra-virgin on top. Rip a few basil leaves in half and place on the flatbread. Add rinsed and drained canned cannellini beans. Finish with a sprinkle of sea salt and fresh ground pepper.
Choose Your Own Popcorn Bar
In recent years, popcorn has gone out of style; it's a shame. Popcorn is inexpensive and one of the more healthy options for snacking. Maybe all it takes to reignite the love for this old-time favorite is more creative ways to flavor it. Creating a DIY popcorn buffet is a step in the right direction. Pop a big bowl of favorite unflavored popcorn and give your guests flavoring options such as Old Bay Seasoning, cheese powder, chili powder, wasabi, and even nuts or chocolate chunks!
Pizza-Flavored Oyster Crackers
Everyone loves pizza, but too much isn't good for your waist size or wallet. These oyster crackers make a great snack which will sure to help quell your pizza cravings. Preheat the oven to 350. Mix a large bag of oyster crackers (around 10 oz.) with a 1/4 cup of neutral oil like canola, 1/3 of a cup of powdered parmesan cheese, and three tablespoons of pizza-spice mix. Spread on a large baking sheet and cook for 5 minutes, shaking occasionally. Serve when cool.
Are you looking for apartments in Flagstaff, Arizona? Then check out Highland Village. Highland Village offers residents many amenities and is close to NAU. Call us to arrange a showing.