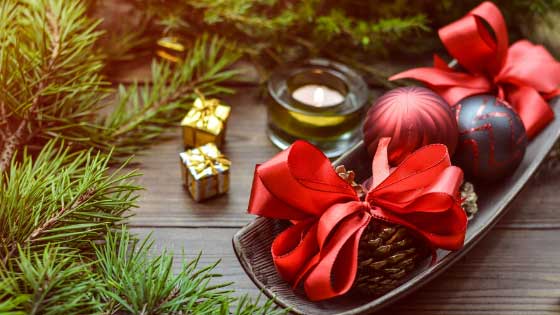 The holidays are coming! This is the perfect time of year to decorate your home with homemade decorations, especially if you're planning a holiday party sometime soon. When making your own holiday decorations, use what you have and keep it simple. These three tips can help you as you create decorations that will make your home more festive during the holidays.
Ribbon Candle Holder with Pine Cones
Take a standard glass candle holder and tie a beautiful red bow around its base. Add a pine cone just to the side of the candle holder, then place a candle inside and light it. This is a wonderful decoration to use on your dining room table at a special holiday meal. If your table is long, place multiple candle holders at various points along the middle of the table. To ensure your decoration is safe for others, use electric candles.
Jar Full of Holiday Candy
Fill a jar full of colorful holiday candy, like peppermints or holiday-colored M&Ms. Put on the lid. This jar with candy makes a good coffee table piece. Before placing the jar on the coffee table, sprinkle the area where it will be set with matching confetti or artificial snow.
Wreath Made of Felt Scraps
Cut up felt scraps of red, green, and white, or blue, gray, and white, then tie them to a wreath wire. Place the pieces of felt close together so the wire is entirely covered up. Leave the ends of the felt loose to give the wreath a haphazard quality. Put the wreath up on your front door or on the wall of your living room.
Contact Highland Village Apartments
The holidays are coming, and at Highland Village Apartments in Flagstaff, AZ, we're getting ready. To join our community, make an appointment to see the available floor plans today.